Hello,
I am going to develop a robot and I have some questions. Its system architecture will look like the following picture: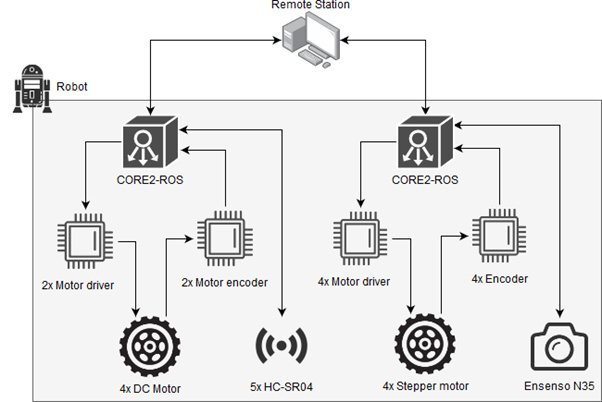 First question: the remote station and both CORE2-ROS SBC's will need to be connected to each other wirelessly. The remote station will control the system and also run ROS (roscore). Is this all possible? We have ordered 2 CORE2-ROS but we don't know where to start.
Second question: is it possible to connect motor drivers and encoders to the CORE2, and publish that data to the ROS network. And is it also possible that the CORE2-ROS will receive data from the remote station that the RPi 3 (on the CORE2-ROS) will use to control the motor drivers connected to the CORE2?
Third question: at this tutorial page it states that
In this section you will create a node for interfacing motors. Your node will subscribe to topic with geometry_msgs/Twist messages, drive the motors, read encoders and publish their state to appropriate topic. To create this node you will use Husarion Cloud. Create new project and paste following
So first the text says that I will create a node, then it says that I need to create a new projcet in the husarion Cloud. Also the code that needs to be pasted contains:
void hMain()
This does not seem to be a ROS node function but a CORE2 function, which means that we are not creating a node. This makes me very confused.
The main question I have is: how does the CORE2 communicate with ROS running on the RPi 3?
Fourth question: I will need to use a Wi-Fi adapter to improve the Wi-Fi signal between the remote station and the robot. This adapter is connected to the USB port of the RPi 3. Will this also work?